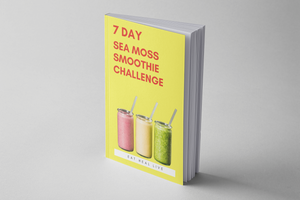 "Your body is made up of 102 minerals. Sea moss contains 92 of 102 minerals your body needs. When you add Bladderwrack and Burdock root with it, the combination magically provides the entire 102 mineral content your body need to replace every single day." – Dr. Sebi
Sea Moss is naturally rich in minerals, protein, and iodine. Adding 1 - 2 tablespoons of sea moss gel to your daily smoothies, over time, will help reduce mucus and inflammation throughout your body. 
SEA MOSS HEALTH BENEFITS
Will Boost Your Energy Levels

It is vitamin-rich and contains 90% of nutrients our bodies need

Promotes natural weight loss

Sea Moss helps your body build muscle

Is rich in protein

Helps build a healthy immune system

Increases libido

Improves skin

Contains a high level of calcium
After this challenge you will feel refreshed and healthier from the inside out.
Includes 12 alkaline smoothie recipes

Dr. Sebi's Nutritional Guide
Tips & more
*This is a digital download. You will not receive a physical book. Your e-book will automatically be emailed to you after purchase. 
Contact us here with any questions
October challenge starts on Monday, October 3, 2022 but you can start at anytime