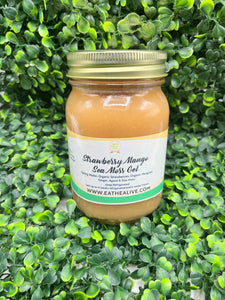 Sea moss gel infused with organic strawberries and mangoes

Additional ingredients:
Spring water
Organic Agave
Organic Ginger 
Wildcrafted Sea Moss is a seaweed that possesses many healing properties and an impressive nutritional content. It contains 92 out of 102 minerals found in our bodies which includes Calcium, Copper, Sulfur, Iodine, Selenium, Folate, Magnesium, and Potassium, vitamins A,E,C, K, & B6, omega 3, and amino acids.  
 Strawberries fight cancer, regulate your blood pressure, are high in fiber and antioxidants, and boost the immune system.
Mangoes promote a healthy digestive system, beneficial for skin, boost the immune system, promotes healthy eye health, lowers cholesterol, rich source of vitamins D,A,B6,C,& E. Mangoes also alkalizes the body and is very beneficial in healing anemic patients increase iron absorption. 
*Disclaimer: These statements have not been evaluated by the Food and Drug Administration. This product is not intended to diagnose, treat, cure, or prevent any disease.