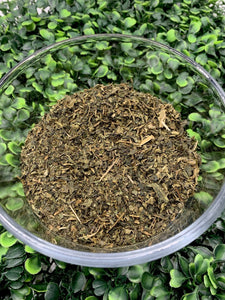 Nettle leaf is an anti asthmatic Herb is relieves bronchial and asthmatic issues.
Promotes hair growth
Increases energy levels
Helps with treating eczema and skin condition
Alleviates headaches
Contains Vitamin C, B, K1, iron, calcium, and magnesium
Boost the immune System
Loosens congestion
Reduces blood sugar levels
Natural diuretic which helps to lower elevated high blood pressure levels
Helps with disorders of the muscles and joints (rheumatism, arthritis, and tendinitis)
Supports the urinate tract & nervous system
How to boil tea: 
1. Place spring water in tea kettle or pot
2. Bring water to a rolling boil
3. Using a strainer, pour the desired amount of herbs in a cup or mug. Save herbs (place them in an air tight container and refrigerate; re use within 14 days)
3. Pour hot water over the herbs. Steep for 3-5 minutes, the longer you let it steep the better the flavor
5. Add in your choice of sweetener ( we recommend only alkaline sweeteners, see alkaline food list provided) or drink without sweetener.
5. Enjoy