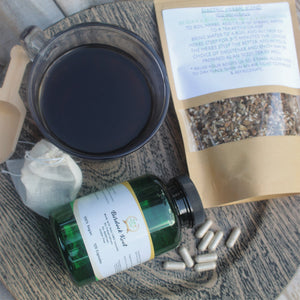 Includes
6oz of  Elderberry
6oz of Electric Herbal Blend 
A 60 days supply of Burdock Capsules 
Elderberries boost the immune system and remove infections from the body. It reduces the swelling of the mucus membranes. and relieves nasal congestion it also has antiviral and anti-carcinogenic properties. Elderberry keeps your respiratory system healthy and easiest allergies. Rich in vitamin A and B6, it also improves your vision.    

Burdock Root capsules have been restocked.  Our capsules are 100% vegan. Burdock •Contains 102 minerals that the body needs •Provides the body with iron •Reduces sweet cravings • Increases energy •Cleanses the Blood •Mineral-rich •Alkalized the body •Strengthens the intestine •Detoxifies the liver •Improves skin from the inside out •Natural immunity Booster • Regulates blood pressure

The Electric Herbal Blend
102 minerals
Dandelion • Burdock Root • Sarsaparilla 
Paired together in a powerful blend to detoxify your blood blood purifying and give your cellular cleansing.
Vegan• Non GMO • Gluten Free