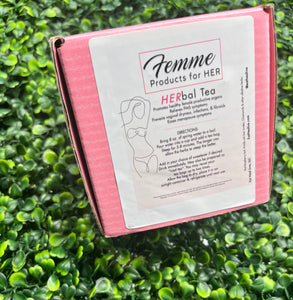 The HERbal tea is from the Femme for Her collection created just for the queen. Inspired by Dr. Sebi this blend  
Promotes healthy female productive organs
Can relieve PMS symptoms
Can prevent vaginal dryness, infections, & fibroids
Can ease menopause symptoms
May increase Respiratory Health (removes mucous from the whole system
May detox the body
Can help with PCOS
Contains 24 bags 

 DIRECTIONS:
Bring 8 oz. of spring water to a boil.
Pour water into a cup and add a tea bag.
Steep for 5-8 minutes. The longer you
allow the herbs to steep the better.
Add in your choice of sweetener if desired.
Drink immediately. May also be prepared as
"iced tea". You may reuse your
tea bags up to two times.
Allow the bag to dry, place it in an
airtight container & refrigerate until next use.

These statements have not been evaluated by the Food and Drug Administration. This product is not intended to diagnose, treat, cure, or prevent any disease.