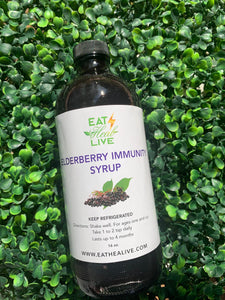 Elderberry syrup is an antioxidant-packed immunity building tonic. Elderberry has been known for years to naturally clear up cold and flu symptoms within 48 hours. It supports the body's natural protective defense.  
Sweet tasting and easy to swallow. Safe for children ages 1 and up. 
Elderberries boost the immune system and remove infections from the body. It reduces the swelling of the mucus membranes. and relieves nasal congestion it also has antiviral and anti-carcinogenic properties. Elderberry keeps your respiratory system healthy and easiest allergies. Rich in vitamin A and B6, it also improves your vision.

Made to order 

Ingredients: Spring Water, Wild Crafted Elderberries, Fresh Organic Ginger, Cloves, and Organic Blue Agave 
Comes in 16 oz glass jar
These statements have not been approved by the FDA.