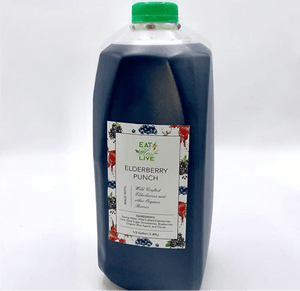 Express shipping only. 
Made with spring water, wild crafted, organic elderberries, organic blueberries, raspberry leaf, coconut nectar, key limes, date sugar, cloves and agave. 


 Order are made to order. Please allow an additional 3-5 business days prior to shipping.
NOTE: Contact us if you have any food allergies even if it's one not listed on the ingredients.  
Benefits
Boost energy 
Boost the immune system
Improves digestive system 
Loaded with Antioxidants
Mineral Rich 
Lowers high cholesterol levels 
Potassium
Improves liver health 
Disclaimer: These statements have not been approved by the FDA