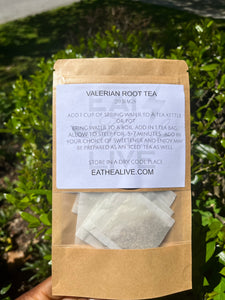 Valerian root is a natural supplement that has been used for centuries to help relieve anxiety and promote relaxation. 
USES: Relieves insomnia anxiety and stress. It also assists in combating depression, headaches, and regulates heart rate. 
20 Teabags per box
Drink it as an "Iced"  or "Hot" tea
Give it a try and experience the calming effects for yourself
How to boil tea:
1. Place fresh cold spring water in tea kettle  or pot
2. Bring water to a rolling boil
3. Put your teabag in a cup or mug
3. Pour hot water over the teabag. Steep for 3-5 minutes, the longer you let it steep the better the flavor
4. Remove tea bag
5. Add in your choice of sweetener ( we recommend only alkaline sweeteners, see alkaline food list provided) or drink without sweetener.
5. Enjoy
For the best results, prepare tea with spring or alkaline water
 Valerian root does not have any harmful side effects or risk of addiction. It is a safe and natural way to manage anxiety.
These statements have not been approved by the FDA. Statements are made from personal experience within the holistic lifestyle and what has been experienced by others as outlined in multiple sources. This information is not intended to diagnose, treat, cure or prevent any disease.