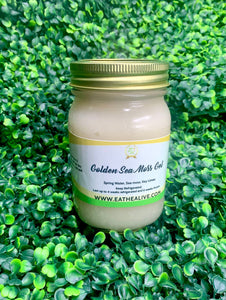 Sea moss gel made from wild-crafted Irish Moss. It is a seaweed that possesses many healing properties and contains a large amount of nutritional content. It contains 92 out of 102 essential minerals that our bodies need which includes Calcium, Sulfur, Iodine, Selenium, Folate, Magnesium, and Potassium
You can use gel in various ways. Apply it to your skin to reduce wrinkles and  remove dead skin, Seamoss gives your skin a more youthful appearance
Adding 1 - 2 tablespoons of sea moss gel to your food and or smoothies daily, will help reduce mucus and inflammation throughout your body. It may also be taken alone.
Please allow additional 2-3 days to make seamoss gel. All orders are made fresh and shipped FROZEN.
To aid in our efforts to keep all products fresh, This product will be sent in an insulated box with gel packs to preserve its freshness.
Sea moss gel comes in a 8oz and 16oz glass jar.