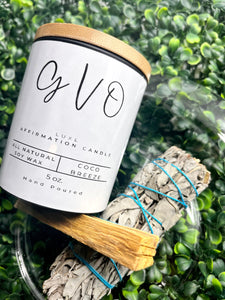 Clear your energy and manifest what you desire  

Kit includes 
•1 Affirmation candle
•1 Sage smudge stick 
• 1 Planto Santo stick
Candle weight 5 oz
These candles are slow burning and contain natural soy wax; phthalate-free, paraben-free, and sulfate-free fragrances; 100% cotton wick.
All components are sustainable and environmentally friendly.


Burn time is 30+ hours 
Candle Fragrances: 
I AM GRATEFUL- Orange Peaches- Bright, fruity and fresh summery  scent.
BUSY MANIFESTING- Peach Hibiscus- Indulging, sweet escape, soft and energizing scent  
FREE MY MIND- Lavender Sage-calming apothecary, spa, and refreshing scent 
GVO -Coco Breeze- Relaxing Oasis, creamy beach scent 
*Natural soy wax candles may demonstrate frosting or variations in color which do not affect their quality or burn.